The Escapists
Android
apk-4-free
Version
1.0.1
1 month ago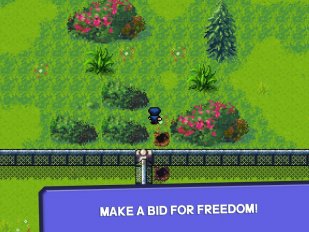 Description of The Escapists
Dive in the multi-million selling prison escape game, now on Android!

Craft, Steal, Brawl and ESCAPE!

You've landed yourself in prison again, and your only chance is to engineer an escape by any means necessary. How you do it is up to you! Why not cause a prison riot? Or dig a tunnel right under the walls of the prison? Or even steal a guard uniform to blend in with your captors?

The Escapists is a unique prison sandbox experience with lots of items to craft and combine in your daring quest for freedom. Life in prison will keep you on your toes with the strict rules that you'll have to break. The guards are out to stop any escape attempts, so you'll have to avoid suspicious behaviour by attending roll calls, working a prison job and hiding your stolen craftables.

Escaping is what you do best, and you'll have to prove your skills in a variety of challenging prisons from across the world.

Become an Escapist now!
Julian Holton
2 hours ago
good game
don't listen to the people who say this is bad because they are idiots but this game is awsome
A Kitty Called Albert
1 day ago
great game
even with just six levels its interactivity is good for a lot of gameplay
Awesome but
I was on the last prison I stopped to go get something and when I came back and I clicked on the game it froze and crashed
Good App Guaranteed!
This application passed the security test for virus, malware and other malicious attacks and doesn't contain any threats.